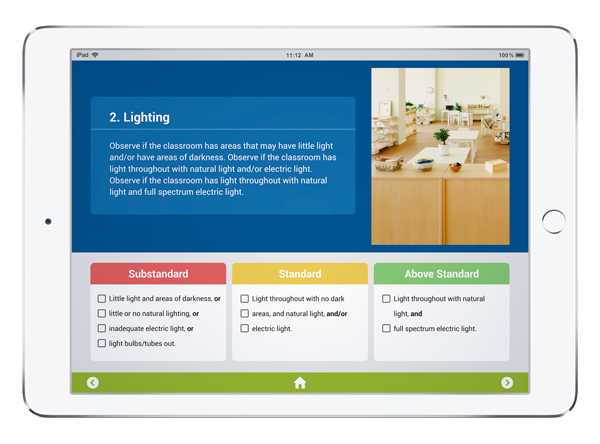 The
Montessori Rating Scale – Early Childhood – Environment
is soon getting an iPad App!

The Montessori Rating Scales – Early Childhood – Environment measures the quality of a Montessori early childhood environment. This tool provides teachers and school directors, as well as teacher training programs and government agencies, a framework for evaluation and improvement planning. 
Topics assessed are Interior Space, Furnishings, Montessori Materials in Practical Life, Sensorial, Mathematics, Language Arts, Botany, Zoology, Geography, History, Science, Art, Music & Movement, and the Outside Environment, and Peace. In addition to addressing the quality of the classic Montessori prepared environment, with the attendant Montessori materials, the
MRS-EC-E
addresses the environmental aspects of health and safety, and the general furnishings of the classroom. The 155-item
MRS-EC-E
scale thoroughly assesses completeness and quality of the Montessori prepared environment.
 a framework for evaluation
and
improvement planning